Winter & Spring (October 1-May 14) Call or email for reservations
WINTER & SPRING Call/email for reservations!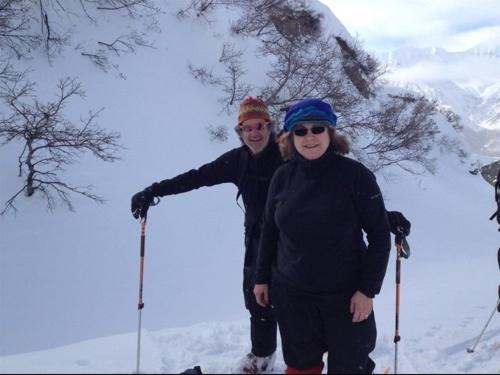 Allow us to introduce ourselves: We are your hosts and owners, Annie & Mike Hopper, out for an afternoon of skiing. We love Winter! Winter sports are in full force in Alaska and are often a highlight for our visitors. We are able to arrange packages which include dog mushing, snow shoeing, cross country skiing and snow machining. These are common activities around the lodge and depending on the snow pack, can come as early as October and can last well past the month of April. This depends a lot on weather conditions and our guests level of expertise. Winter packages provide a worry free way to see Alaska in the winter.
WINTER ALASKA ADVENTURE PACKAGES
Packages are lodge based. After all activities, guests return to the lodge at the close of the day. Prices include meals, lodging, equipment and all activities. Activites are guided with a 1:4 ratio / one guide for every four people.
Call us about our rates! ADVANCED RESERVATIONS ARE REQUIRED.
Activities depend on guest interest, level of fitness, and weather!
TRANSPORTATION AVAILABLE UPON REQUEST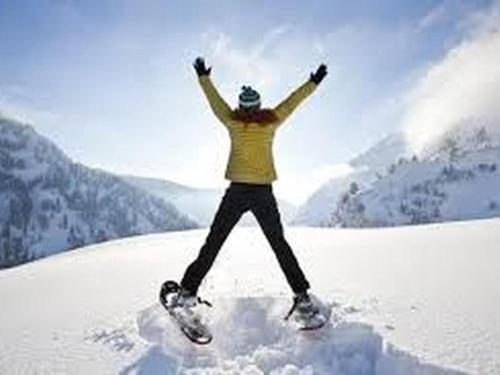 SKIING & SNOWSHOEING
Skiing and Snowshoeing are available for anyone who wants to just walk out of the lodge and onto the trail. Our winter trails serve the lodge guest as guided access to the quartz-streaked bluff that dominates the eastern ridgeline far above the lodge. Beginning, intermediate, and expert groomed trails provide quick access to some of the most pristine areas of the Alaska range. Trail maps for unguided guests are available. Skiing and snowshoe equipment is available for rent for the unguided guests.
NORTHERN LIGHTS VIEWING
Northern Lights viewing begins in early fall in the Alaska Range. We can arrange outings now with northern lights photographers who will teach you about how to take photos of the northern lights and escort you on excursions to "Chase the Lights" late at night!
Forecasts of the Northern Lights can be found at the University of Alaska web site http://www.gi.alaska.edu/AuroraForecast
Other sites:
spaceweather.com ...An amazing resource for wacthing the waterh.
http://www.swpc.noaa.gov
http://auroranotify.com: this comprehensive website that has everything combined. They will also send "alerts" to your phone or other device to let you know it's visible. Look for Coronal Mass Ejections.
If the main focus of guests is Northern Lights viewing, then a visit to the lodge during high forecast times is recommended.
The Aurora can be seen from many viewpoints at the lodge, with panoramic views, north and south from the dining area, decks, and the belvedere. The lodge is located "off grid" which means minimal artificial light interferes with viewing the aurora.
Guests can also be transported via the Snowcoach, or POD, to viewing sights near the lodge, including a mountaineering lodge located within 1 mile of our lodge. Evening rides and outings are frequent but do depend on weather conditions. Depending on the weather we can arrange for a drive to "chase the lights" if the view is better north or south from the lodge.

FLIGHTSEEING, GLACIER LANDINGS, BACKCOUNTRY SKIING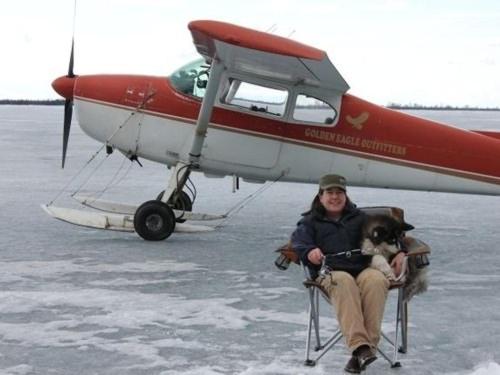 Winter flying and adventures are amazing in Alaska! Come see glaciers and mountains in their truest form in winter!
Spring ski adventures and glacier landings are beyond your wildest dreams!
THE SNOWCOACH OR "POD"
The "Snowcoach" or "POD"
is a great way to explore the wintry countryside. Made from sturdy polyethylene, this add-on attaches to a snowmobile or All Terrain vehicle (ATV), offers room and seat belts for up to two people, and sits on a high performance gas shock suspension for a smooth ride. The "POD" is often used for a variety of these adventures, giving our guests less time going up hill and more time to enjoy the surrounding vistas. Guests are driven back to the lodge whenever requested. Afternoon outings often include a "POD" ride to trail access points around the lodge for skiing, snowshoing, and cross country sking. Northern Light excursions involve travel to a small lodge located at the mountaineering center within ½ mile of the lodge or over to Gunnysack Creek. Because of limited daylight hours October – February, the POD gives more time for our guests to be on the trail, and less time getting there.
DOG MUSHING TOURS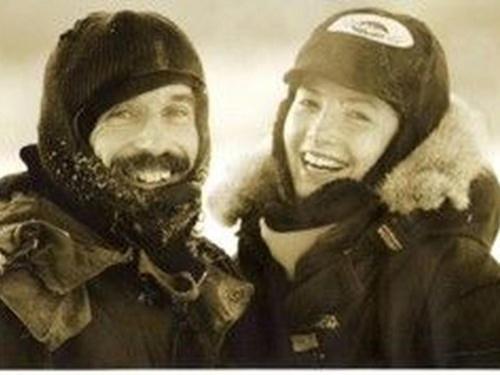 Crazy Dog Kennel is a competitive racing kennel, owned and operated by Zoya DeNure and John Schandelmeier, dedicated to the training and rehabilitation of unwanted sled dogs. John won the famous Yukon Quest in 1996 and Zoya has competed in the Iditarod, "The Last Great Race on Earth' (some black out dates apply).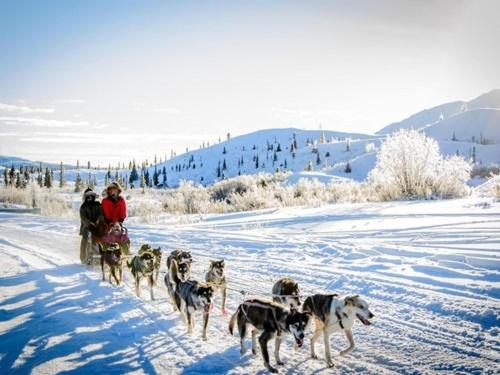 KENNEL VISIT & DAY TOUR NEAR DELTA JUNCTION: Guests are driven to meet Zoya & John at their kennels near Delta Junction, AK, 38 miles north of the lodge and given a 1 hour dog sled tour from the kennel itself (some black out dates).KENNEL VISIT & DAY TOUR NEAR DELTA JUNCTION: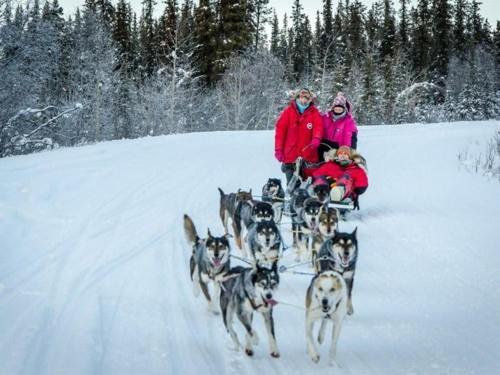 THE DENALI HIGHWAY TOUR: Guests are picked up by dog mushers from Crazy Dog Kennels near Delta Junction and driven to the Denali Highway area. This all day adventure is set above timberline with magnificent views of the Alaska Range and the Wrangell Mountains.
DOG MUSH TO WINTER CAMP WITH OWN CHEF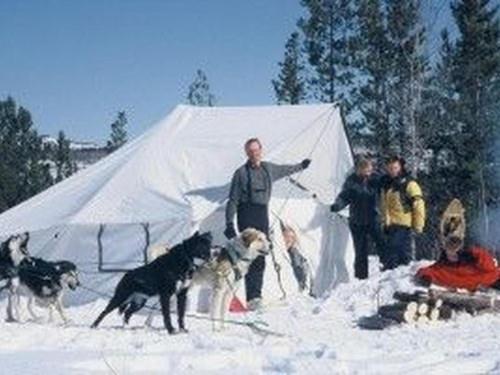 DOG MUSHING TO WINTER CAMPOUT
A CATERED DINNER & BREAKFAST WITH
CHEF JAMESON KAPEC
1-2 people

(Weather permitting)
November 1, 2016-April 30, 2017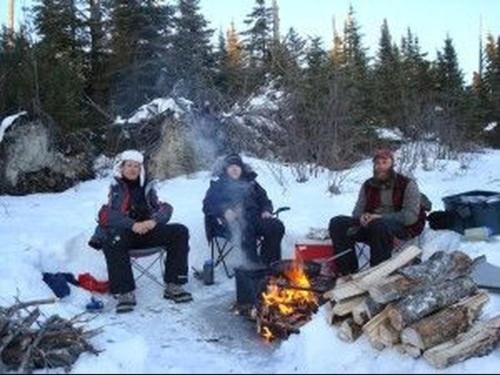 DOG MUSH TO CAMPSITE
SLEEP OVERNIGHT IN ARCTIC OVEN
SLEEP UNDER THE NORTHERN LIGHTS
CATERED DINNER & BREAKFAST
SNOWMACHINING
Guests are transported 30 miles south in the wide-open spaces above timberline on the south side of the Alaska Range. A guide leads only 2 quests at a time in one of the most pristine areas of Alaska. Depending on the amount of daylight, rides last from 1-3 hours.
THE WONDER OF ICE
Ah the wonder of ice.....cold is our friend in Alaska. We enjoy ice skating on Black Rapids Lake, less than 1/4 mile south of the lodge. Our tiki torches light up parts of the lake where we often have large fires to roast marshmellows! Experience an amazing walk on frozen crystal clear lakes, rivers and creek beds, or visit our water falls, an hour snow shoe or hike from the lodge.
Kick sleds and our norweigen ice skates make lake adventures so invigorating!
WINTER GEAR
*Guest Services include transporting guests to local outfitter to purchase winter gear as needed prior to departure for lodge.
Things to Bring:
• Warm long johns top and bottoms (Base Layer)
• Fleece pullover top
• Shell ski Jacket
• Shell pants or snow/ski pants
• Winter coat (rated to – 50 below)
• Wool socks (2 pair & one pair boot liners)
• Wind resistant hat, neck gaiter and/or balaclava
• Warm Gloves and/or mittens & Liners (rated 30 below)
• Winter Boots (rated to -50 below)
• Sense of Humor
• Sense of Adventure
*All these items can be purchased prior to departing for lodge at local stores. We request sizes prior to arrival for expedited shopping.
Safety and Risk Management:
Due to the nature of outdoor travel there are certain inherent risks in all Outdoor Adventure's trips. Acceptable risks include travelling with a daypack for several miles over uneven terrain, consisting of ditches, frozen rivers and creeks, as well as up and down inclined slopes. Conditions may include below zero temperatures, snow showers, and high winds. Driving risks may include slick and snowy roads, poor visibility, and wildlife. Please note that trip cancellations are possible with temperatures colder than -20F. It is important to recognize that you are voluntarily participating in this activity. By choosing to participate, you agree that you appreciate and accept responsibility for these risks. Alaska is a wild place. Your safety is our highest priority.
*All guides have the ability to contact the lodge. Guides are trained in first aid for outdoor emergencies.
*Most travel is within 1-2 hours of the lodge.
FOR CUSTOM WINTER ITINERARIES
CALL: 907-388-8391